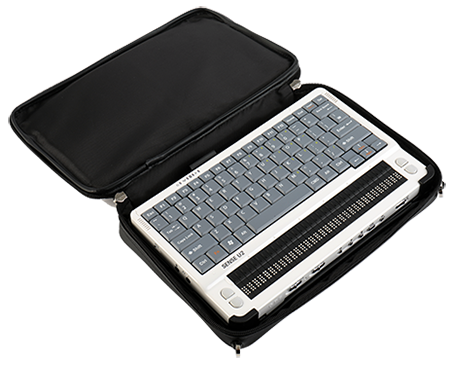 The BrailleSense U2 QWERTY notetaker is a powerful educational note-taking tool, portable networking devices and multi-media entertainment systems. With a full QWERTY keyboard, 32 braille cells, and stereo speakers, the U2 QWERTY can offer braille, speech, or both.
32-Cell Notetaker
The BrailleSense U2 QWERTY offers 32-cells of high quality braille with an excellent cell display that you can easily feel and read. The QWERTY keyboard is easy to use and has great keystroke feel.
Improve office compatibility
The BrailleSense U2 QWERTY can read and review Microsoft Word, PowerPoint, and Excel files in contracted braille. Included office apps make users more accessible to email with IMAP or Pop3.
Full QWERTY Keyboard
Want a notetaker to teach your students to touch type, or prefer to use a QWERTY keyboard yourself? No matter the reason, the U2 QWERTY is your option for a notetaker with QWERTY keyboard.
Support majority file formats
Using our proprietary applications you can open, read, and create .txt, .rtf, .doc, .docx, .brl, .brf, and more. You can also open and read .ppt, .pptx, and .epub.
 General Specifications
Operating System: Windows CE 6.0
CPU: Mobile CPU 1GHz
Memory: 256MB
Storage: 32GB Flash Memory
Auxiliary Storage: Standard SD Card Slot, USB memory
Wi-fi: 802.11n compatible with 802.11b/g; 2.4GHz and 5GHz Dual-band
Bluetooth: Bluetooth 2.0 + EDR
GNSS: GPS
Censors: Accelerometer, Gyroscope, Magnetometer (Compass)
FM Radio; 65 ~ 108 MHz with 50kHz step
Braille Display: 32 Refreshable Braille cells and cursor routers
Size and Weight
Width: 250 mm (9.84 inches)
Depth: 160 mm (6.3 inches)
Height: 20.0 mm (0.78 inches)
Weight: 838 g (1.84 lbs)
Keys and Buttons
QWERTY Keyboard
dedicated Media Controls and Volume Buttons
Lock Switch, Mode Switch and Power Button
Scroll keys and cursor routers
Connectivity
USB 2.0 Slave x 1, USB 2.0 Host x 3
VGA Video out
Audio Interface
Stereo Speakers and mono microphones
4-pole Headphone Jack and Stereo Microphone Jack
Vibrate motor and audio alerts
Power and Battery
Replaceable lithium‑ion battery, 4590 mAh
Charging via USB to computer system or power adapter
Charging up to 10W; DC 5V/1A, 5V/2A
Cene:
- BrailleSense U2 QWERTY, beležnica: 4750 USD + PDV (ako se placa) ... Azurirano: 2021-12-29
u Srbiji u dinarima.