Ne proizvodi se više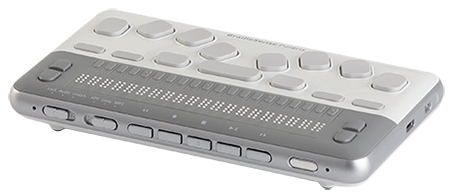 The BrailleSense Polaris MINI offers a new standard in blind-friendly applications with the latest in cutting edge technology. We've kept the traditional computer interface that has contributed to the popularity of other BrailleSense models. The BrailleSense Polaris MINI supports Google Apps, making it easy to utilize Google services like Drive, Docs, Sheets, and Slides as millions of other students do every day.
Studying Mathematics efficiently
The BrailleSense Polaris MINI notetaker is the absolute leader for braille mathematics with UEB and Nemeth support, equation creation and editing in the Word Processor, and graphing capabilities.
Support majority file formats
Using our proprietary applications you can open, read, and create .txt, .rtf, .doc, .docx, .brl, .brf, and more. You can also open and read .ppt, .pptx, .pdf, and .epub.
20-Cell Notetaker
The BrailleSense Polaris MINI offers 20-cells of high quality braille with an excellent cell display that you can easily feel and read.
Perkins Keyboard
With a 20-cell Braille display and a 11-key Perkins-style keyboard with Ctrl and Alt Keys, The BrailleSense Polaris MINI looks and feels like a traditional notetaker.
Exclusive Productivity Apps
Get more done using integrated Google Search and Google Drive applications built-in exclusively for the BrailleSense Polaris MINI. It's all the power of Google with the ease and convenience of a notetaker.
Android OS
Download android apps using the Google Play Store, including the most common apps used in education, work, and at home. This includes apps like Zoom, Google Meet, and so much more.
General Specifications
Operating System: Google Android 5.1.1
CPU: SAMSUNG Exynos 7420 Octa-core
Memory: 3GB LPDDR3
Storage: 64GB eMMC (50GB available to user)
Auxiliary Storage: Standard SD Card Slot, USB memory
Wi-fi: Wi-fi: 802.11ac compatible with 802.11b/g/n; 2.4GHz and 5GHz Dual-band
Bluetooth: Bluetooth 4.2 Classic
GNSS: GPS
Censors: Accelerometer, Gyroscope, Magnetometer (Compass)
FM Radio; 65 ~ 108 MHz with 50kHz step
Braille Display: 32 Refreshable Braille cells and cursor routers
Camera: 13 megapixel rear camera
Size and Weight
Width: 185 mm (7.28 inches)
Depth: 103 mm (4.06 inches)
Height: 23 mm (0.91 inches)
Weight: 415 g (0.91 lbs)
Keys and Buttons
9-key Perkins Keyboard with ctrl, alt and 4 function keys
dedicated Media Controls and Volume Buttons
Lock Switch, Mode Switch and Power Button
Scroll keys and cursor routers
Connectivity
USB Type-C 3.0 x 1 (OTG)
micro HDMI Video out
Audio Interface
1 Watt mono Speakers
Omni directional MEMS Stereo microphones
4-pole Headphone Jack and Stereo Microphone Jack
Vibrate motor and audio alerts
Cene:
- : + PDV (ako se placa)
u Srbiji u dinarima.