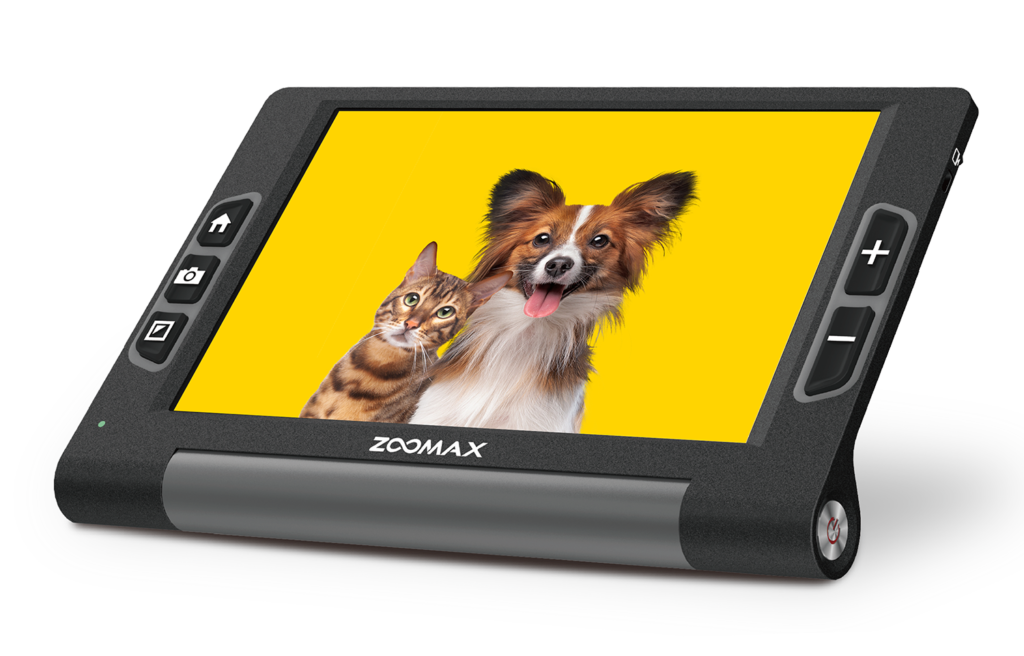 Luna 8 je lagana ručna elektronska lupa sa kompaktnim kućištem. Izuzetno dugo trajanje baterije od 8 sati je čini savršenom za upotrebu svuda. Bilo da čitate knjigu ili novine kod kuće, koristite je za učenje gradiva za školu ili je nosite na posao, Luna 8 je savršeno pomoagalo za uveličavanje stvari koje želite da vidite.
Cene:
- Luna 8: 900 USD + PDV (ako se placa) ... Azurirano: 2022-10-24
u Srbiji u dinarima, za Evropske zemlje u EUR.
8 hours extra long Battery Life
8 for Luna 8 is more about the screen size. Outstandingly, your Luna 8 can get up to 8 hours of reading time on a single charge. As one of the video magnifiers with the longest battery life on the market, Luna 8 brings you a longer and more enjoyable reading experience. Featuring how sharply it displays the texts and images, Luna 8 is definitely your best visual companion.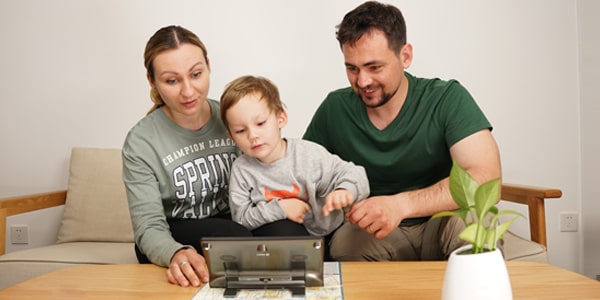 Extreme simplicity - Luna 8 handheld magnifier
Enjoy coffee, sunshine and simple life. If what you need most from a video magnifier is simplicity and great image quality, then Zoomax Luna 8 is for you. There are no complex advanced features to worry about. Just zoom in and out, high contrast to assist with reading, and a camera button for taking photos of things to look at later. Senior people or people with severe vison will spend no effort to learn how to use the Luna 8 in one minute.Luna 8 powers up fast too. Perfect!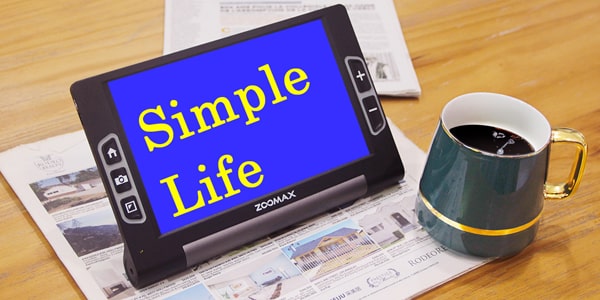 Use Luna 8 everywhere on the go
Take Luna 8 anywhere you want to go: at home, to the office, or to school.  Luna 8 is not only easy to use for reading, but also highly functional for outdoor life. It's lightweight and sturdy for people with visual impairment to carry around; it has distance viewing that enables you to see the menu board in restaurants, or the slides projected in the conference room. With extraordinary 8 hours battery life, Luna 8 is your perfect portable magnifier for continuous use.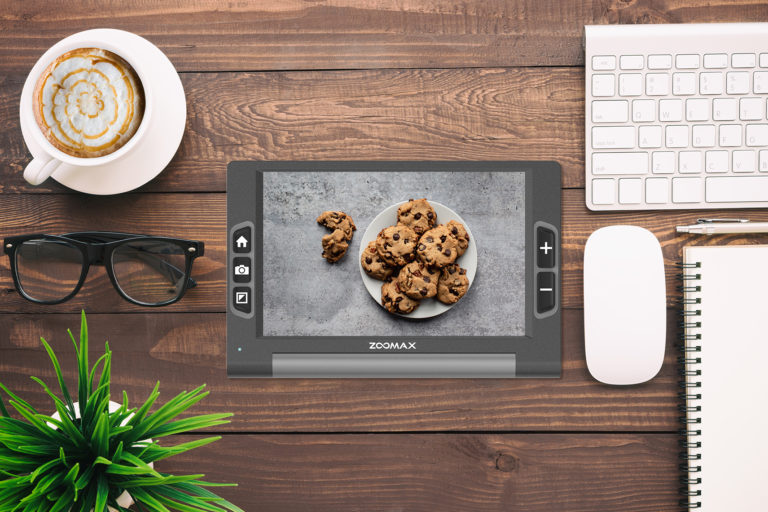 Keep up with the modern life
Luna 8 suits the style of everybody. The slim, matte, textured finish with white on black buttons, just like the cool tech gadgets most people will enjoy. Instead of an optical magnifier, this electronic video magnifier brightens your look. It's stylish and confident, while enhancing your visual life.
Features
High definition image
8 hours long battery life
Slim, light and portable
Tactile buttons
Adjustable reading line and masks, 4 types in total
Distance view
Storage up to 200 images
Connect with computer/TV/monitor
Reading stand
Specification
| | |
| --- | --- |
| Magnification | 2.5X - 19X |
| Display Modes | Full color and 10 high contrast color modes |
| Screen | HD 8″ screen |
| Screen Resolution | 1280 x 800p |
| Camera | 13 mega pixels |
| Focus | Auto focus |
| Image Storage | Up to 200 images |
| Reading Line and Masks | Ajustable horizontal/vertical reading line and masks |
| Connect to TV/monitor | Through HDMI cable |
| Connect to PC | Through USB cable |
| Charging Time | Less than 3 hours |
| Battery Life | 8 hours continuous use |
| Weight | 500g/1.1lbs |
| Dimensions | 218 x 143 x 11mm/8.6 x 5.6 x 0.4″ |
Power Adapter
| | |
| --- | --- |
| Input | 100 - 240V |
| Output | 5V/3A |
Operation and Storage Condition
| | |
| --- | --- |
| Humidity | < 70% |
| Temperature | 10 – 40 °C |
Click the Links to download: