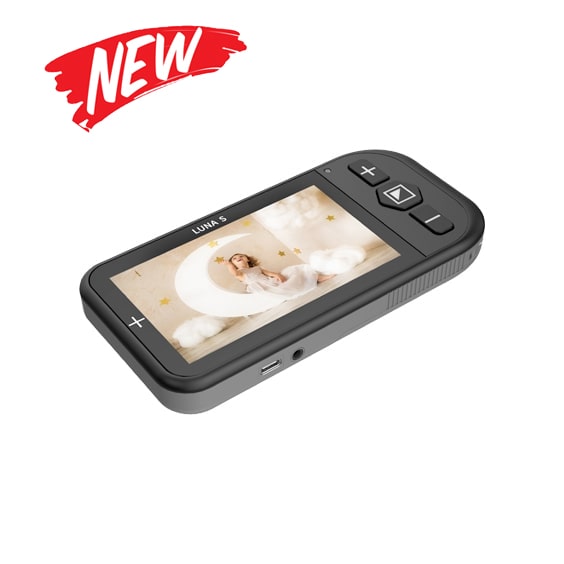 Luna S je 4,3-inčna ručna elektronska lupa. Donosi vam kristalno jasne slike i neke druge sjajne karakteristike u kompaktnom kućištu. Stavite Luna S u džep i spremni ste: čitajte meni, čitajte knjige, slušajte radio, proverite cenu, sve i svuda. Luna S je zgodno vizuelno pomagalo za sve slabovide!
Cene:
- Luna S 4,3 ": 410 USD + PDV (ako se placa) ... Azurirano: 2022-10-24
u Srbiji u dinarima, za Evropske zemlje u EUR.
Clear image for reading all the time
Luna S, taking the advanced image processor and auto-focus camera, keeps the display sharp all the time. Even in the high contrast color modes or fast movement, the image is blur-free. As Luna S is used closely on the reading material, there is no light reflection or distortion. Every word displays bigger and clear.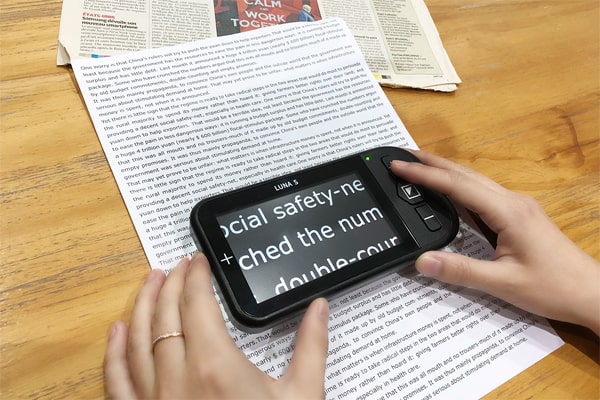 Simple and Useful for visually impairment
"S" of Luna S is for simple. This pocket-size video magnifier works directly with big, intuitive buttons. High contrast color modes, magnification from 2x to 19x, and the sharp image are all you need to read, and they are happened to be what Luna S will offer. Get Luna S in your pocket: it is your low vision solution on the go. Maps, invoices, pill bottles, receipts, mails, magazines… get Luna S to read!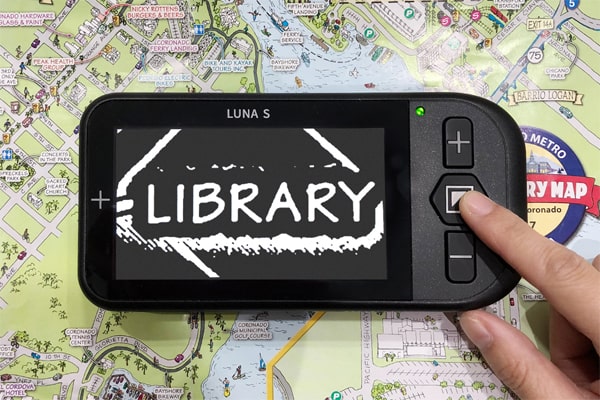 Signature is so easy with Luna S
Your signature  is unique and important. To protect your privacy, please try to sign by yourself. With the writing stand on the back of Luna S, you can write diary, sign the contract, bill or other documents. Writing stand can be folded when it's not needed.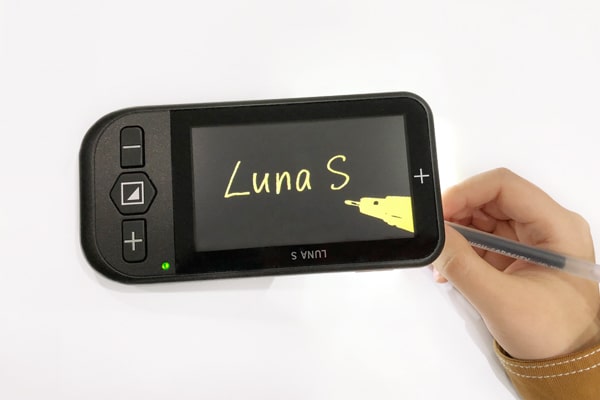 Unique video magnifier with FM Radio
Listening to the radio is always enjoyable, whatever your eye condition is. Luna S features include FM radio. This video magnifier simplifies adjusting to your favorite station, and the clear and static-free audio will be delivered via the earphones. To listen to radio, just hold two buttons simultaneously to activate the function. Enjoy your favorite local radio stations, even without a radio! We also prepare the ear bugs free for you in our standard package.Get your Luna S and listen to your favorite program now in your sofa or in the sunshine!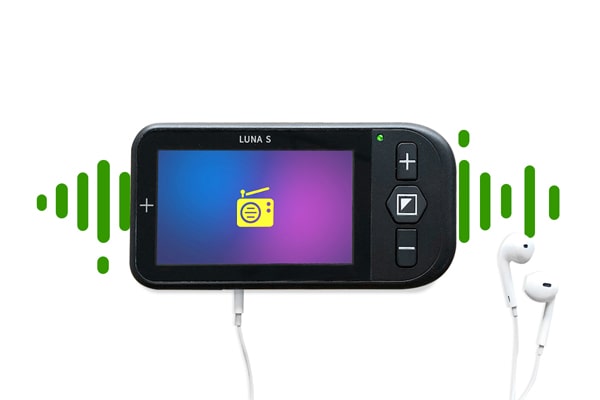 Features
Portable and lightweight
Pocket-size
Carrying case and wrist grip
Smooth magnification adjustment
FM radio
Freeze image
Power saving
Specification
| | |
| --- | --- |
| Magnification | 2x to 19x |
| Display modes | True color, grayscale, and 10 high contrast color modes |
| Screen | 4.3 inch widescreen TFT |
| Focus | Auto focus |
| Battery | Rechargeable lithium-ion battery |
| Battery life | 3 hours continuous use |
| Charging time | 4 hours |
| Power saving | Unit will turn off automatically after no activity for 3 minutes |
| Special functions | Flashlight mode, FM radio, voice control* |
Weight & Dimensions
| | |
| --- | --- |
| Weight with battery | 7 oz/200g |
| Weight without battery | 5.9 oz/167g |
| Dimensions | 160mm x 80mm x 24mm /6.3″ x 3.15″ x 0.94″ |
Power Adapter
| | |
| --- | --- |
| Input | 100 - 240V |
| Output | 5V/1A |
Operation and Storage Condition
| | |
| --- | --- |
| Humidity | < 70% |
| Temperature | 10 – 40 °C |
Click the Links to download: