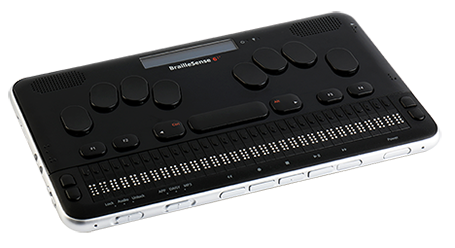 The BrailleSense 6 is our most powerful, portable, and versatile BrailleSense yet. We continue to modernize a classic with the latest offering in our flagship notetaker line, featuring upgrades of our classic blind-friendly applications paired with the latest hardware innovations and mainstream apps and services. BrailleSense 6 offers the traditional Braille interface that has placed our previous notetakers among the most popular electronic Braille devices in the world, while affording a similar experience to contemporary apps and services via Android™ interface.
With it's built-in apps for document creation, e-mail, Web browsing, media and DAISY playback, contacts, calendar and database management, and book search and download, BrailleSense 6 is a powerful productivity tool that promotes Braille literacy through it's Braille-centric command structure; while supporting Google Apps such as Google Drive, Google Docs, Google Sheets, Google Slides and Google Classroom; ensuring students and professionals can be intuitively productive and efficiently collaborative in the contemporary world.
Tradition and Innovation
With a 32 cell Braille display and a 9-key Perkins-style keyboard with the addition of Control, Alt and function Keys, the BrailleSense 6 looks and feels like a traditional notetaker. However, its competitive modern hardware and connectivity, along with direct access to Android applications, ensure it stacks up solidly against modern off-the-shelf phones and tablets.
Portable, intuitive, Braille-based productivity for the Blind Student or Professional
Slimmer, lighter, faster and more efficient than the competition as well as our previous models, BrailleSense 6 ensures everything is at your fingertips, whether in a meeting, at your desk, or on the go.
Modern Android OS
Download apps on Google Play, including the most common apps used in education, work, and at home, including Zoom, Google Meet, Microsoft Teams, Apple Music, Amazon Kindle, or any other accessible app.
Study and Work with Precision
Using our included proprietary applications, you can create TXT, RTF, DOCX and DOC, BRF, and more. You can access PPT and PPTX, XLS and XLSX, PDF, EPUB, XML and HTML, as well as DAISY books and media files in all standard formats.
In addition, our proprietary book search and multi-lingual dictionary applications, ensure access to the content you need wherever you are in the world.
The Most efficient Electronic Braille Math tool
The BrailleSense 6 notetaker offers the most intuitive and automatic interface for electronic Braille math, via UEB, Nemeth, or computer Braille, including equation creation and editing in the Word Processor, and scientific and graphics calculators.
Stay Connected
Whether professionally or personally, BrailleSense 6 will keep you up-to-date with what's happening via YouTube, Twitter, Facebook, WhatsApp, or any other platform you wish to use.
Visual Collaboration
Parents, teachers, and colleagues can view the BrailleSense 6 screen via the USB C port, which can connect and power portable HDMI monitors, or mirror the screen to another Android tablet.
Versatile Camera Support.
Use the built-in 13 megapixel camera, or connect an external USB camera to join online meetings with video via platforms like Zoom, Teams and Google Meet. External camera support also makes batch scanning print materials especially convenient.
General Specifications
Operating System: Android 10
CPU: Octa-core (4 x 2.0 GHz A73, 4 x 2.0 GHz A53)
Memory: 6GB LPDDR4X
Storage: 128GB UFS 2.1 (100GB available to user)
Auxiliary Storage: Standard SD Card Slot, USB memory
Wi-Fi: 802.11ac (802.11/a/b/g/n/ac); Dual-band (2.4GHz and 5GHz); 2T2R MU-MIMO
Bluetooth: Bluetooth 5.1 dual mode for LE and Classic
GNSS: GPS/Glonass/Beidou/Galileo
Censors: Accelerometer, Gyroscope, Magnetometer (Compass)
FM Radio; 65 ~ 108 MHz with 50kHz step
Braille Display: 32 Refreshable Braille cells and cursor routers
Camera: 13 megapixel rear camera; external USB camera supported
Size and Weight
Width: 245 mm (9.64 inches)
Depth: 144 mm (5.66 inches)
Height: 22 mm (0.86 inches)
Weight: 705 g (1.55 lbs)
Keys and Buttons
9-key Perkins Keyboard with ctrl, alt and 4 function keys
dedicated Media Controls and Volume Buttons
Lock Switch, Mode Switch and Power Button
Scroll keys and cursor routers
USB connectivity
USB Type-C 3.1 Gen 1 x 1(Device mode); USB-PD Charging
USB Type-C 3.1 Gen 1 x 1 (Host); USB-C Display Port 1.2; USB-C to HDMI video output;
USB Type-A 2.0 x 2 (Host)
Audio Interface
2 Watt Enclosure type Stereo Speakers
Omni directional MEMS Stereo microphones
4-pole Headphone Jack and Stereo Microphone Jack
Vibrate motor and audio alerts
Power and Battery
Replaceable Lithium‑Polymer battery, 4,590 mAh
Charging via USB to computer system or power adapter
USB-PD fast charging up to 18W; DC 5V/2A, 9V/2A
Cene:
- BrailleSense 6, beležnica: 5900 USD + PDV (ako se placa) ... Azurirano: 2021-12-30
u Srbiji u dinarima.