Ne proizvodi se više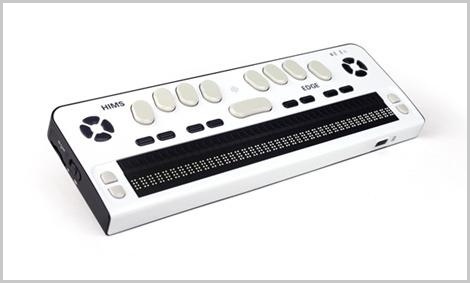 The Braille EDGE 40 is a reliable braille display, with has applications such as: Notepad, Scheduler, Alarm, Clock and Calculator, which can be used without connection to a PC or smartphone. Supports up to a 32GB SD memory card, and with 20 hours battery life and Bluetooth connectivity, this is more than just a Braille display.
2 four-way navigation keys and 8 function keys offer the intuitive functionality of a PC keyboard together with the convenience of entering text in Braille. 

Connect Braille EDGE 40 to a PC, PDA or smart phone via Bluetooth and stay connected throughout the day without the need of charging. For even longer operating time, connect via USB and enjoy all the great features of Braille EDGE 40 while simultaneously charging the unit.
 
Read and save your Notepad and Scheduler data to a maximum of a 32 GB SD card (not included), enough to store thousands of books and documents for reading on the go.
 
Braille EDGE 40 offers you the convenience and flexibility to choose among 13 of the most commonly used languages.

Technical Specifications Include:
Braille display 40 8-dot Cells
Perkins-style keyboard
Interface - USB, Bluetooth
Memory  SD card (supports SDHC) (SD card not included)
7 applications without connection to PC or Smart phone: Notepad, Scheduler, Alarm, Clock, Calculator, stop watch, Countdown timer
Battery  20 hours battery life (rechargeable)
Compatibility  JAWS, Window-Eyes, SuperNova, NVDA, VoiceOver, Mobile Speak, TALKS
Size  310x 101.5x 22.5 mm / 12.2
Weight  785g / 1.73Ibs
24 month warranty
Cene:
- : + PDV (ako se placa)
u Srbiji u dinarima.